AUDECOM
The intelligent hearing aid comparison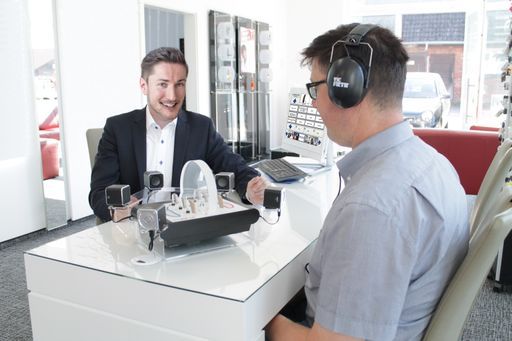 Hearing instrument fitting is often a lengthy process and is often accompanied by misunderstanding and skepticism. You have probably encountered the following situations more than once in your professional practice.
Hearing systems still do not have an unreservedly positive connotation among customers: Glasses are seen as a sign of intellect, hearing systems symbolize age.

Acousticians often find it difficult to convey to the client the differences between different grades of hearing systems that are actually tangible for him. Describing and emphasizing the advantages of higher-priced systems is often perceived as too promotional and unpleasant.

Comparative fitting in its classical form carries significant risks and inaccuracies.

How many clients suspect that they are being cheated when choosing a hearing system and that, in case of doubt, they are being sold the more expensive version out of business interest?
How often have you nodded noticeably or at least in spirit at this list? Then AUDECOM is the right solution.

---
What does the AUDECOM offer you?

New directions in comparative hearing instrument fitting
The AUDECOM offers a remedy for this, allowing you to change the comparative hearing instrument fitting process in a simple, objective-oriented way, making your work more effective and smoother.

An intelligent, software-supported customer dialog guides through the customization and towards a faster decision of the performance class desired by the customer.

You see manufacturer- and product-related information on your monitor about the hearing systems you have connected. Your customer can see for himself which benefits which system offers him and document his favorite.

The client hears the difference between up to three hearing aid types live - all he has to do is switch between the hearing aids at the touch of a button.

Software that clearly and convincingly communicates the respective product benefits to your customers.

Examples from the client's daily listening routine.

Switch between listening situations with up to three hearing instruments at the touch of a button.

They can thus decide much more clearly what is useful to them and give the acoustician clear guidelines.

The client - AND NOT THE AUDITOR - switches between the models and thus recognizes more quickly which listening situation they really prefer.

Listening examples are pre-selected and enable quality differences, for example in noise suppression, speech reproduction, music reproduction or directional characteristics, to be perceived, weighted and evaluated.

Realistic hearing impression - the client hears in comparison how they will hear with his new hearing system in certain situations.

Watch videos on the use and benefits of the hearing aid.

Separate expert and customer view.


The client view provides information about the hearing system - in client-friendly language.

On this basis, the client and the acoustician decide in usually one session which of the comparative systems will actually be worn and further adapted step by step in the best possible way.

The expert view provides the hearing care professional with additional information on technical features, for example, and shows expert tips from the manufacturer on handling and advising on the hearing systems at the touch of a button.